Obi-Wan Finale - The Loop
Play Sound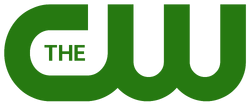 The CW Network (most commonly referred to as The CW) is a television network in the United States, and the home channel of iZombie. The CW was formed as a joint venture between CBS Corporation and Warner Bros. Entertainment and saw a merger of The WB and UPN. The network commenced broadcasting in September 18, 2006.
The CW is America's fifth largest broadcast network, offering primetime programming aimed mostly at the young-adult audience demographic. On top of traditional TV viewership, it offers streaming through the network's website and Netflix. Hulu offers CW programming as part of its livestreaming service as of August 2017.[1] It features a mixture of programming, including The Vampire Diaries, Supernatural and many more. The longest running show was America's Next Top Model hosted by Tyra Banks(until 2015). The honor now goes to Supernatural(2005-present).
CW Seed
CW Seed (originally called CWD or the CW Digital Studio) is a production arm that provides original content created exclusively for digital platforms focused in the areas of animation, game shows, comedy and digital personalities. Included in the service is interactivity, feedback from viewers, and social engagement.[​2]​​ Previously existing as a section on The CW's main website, CW Seed was spun-off to a separate website (cwseed.com ) in 2014. Original web series produced by CW Seed includes: Stupid Hype, I Ship It, How to Be a Vampire, JoJoHead, Prom Queen and Husbands. Additionally, it airs the Arrowverse series: Vixen, Freedom Fighters: The Ray, and Constantine: City of Demons. In addition, CW Seed also hosts archive programming that includes series  such as Constantine, Birds of Prey, Hellcats, Forever, Everwood,  the original 1981 Dynasty tv series, Pushing Daisies, Everybody Hates Chris, and Max Headroom.
Notes and Trivia
The name, "CW", derives from the first letters of the names of its two parent corp (CBS and Warner).
CBS Corporation and Time Warner each own 50% of the network.
Since 2011, the current president is Mark Pedowitz.
"Dare to Defy" is the CW's current Slogan (2015-present).
Beginning with the 2018-2019 TV Schedule line-up, it was confirmed on February 14, 2018 that the CW will now have Sunday nights back after a nine year absence (since 2009); thus going from the normal 10 hours, to adding two extra hours to their primetime and bumping it to 12 hours.[2]
External links
Some Notable shows
References